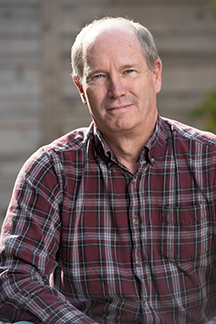 John Cook has been involved in theatre for close to twenty-five years as an actor, playwright, director, producer and artistic director.
He served on the board of several community theatre companies and is currently the Chair of the Program Advisory Committee for the Professional Writing Program at Algonquin College.
He has written for both community and professional theatre companies including Tale Wagging Theatre, Plosive Productions, Vintage Stock Theatre, East End Theatre, and ITR Theatre Company.
Most recently, he wrote and directed the Virtual Theatre version of his one-act comedy The Rooftop Guy as part of ITR Theatre Company's, Zoom double feature, Work From Home Blues.
John has also written humour columns for a variety of newspapers and magazines, including, The Weekly Journal, The Orleans Star, Monitor Magazine, Christian News Ottawa and ChristianCurrent.
John is a member of the Playwrights Guild of Canada and Arts Network Ottawa and is an Artistic Associate with 9th Hour Theatre Company.
Working with John's Plays
John has written plays in various formats: Full length, One-Act, Ten Minute, Radio Shows and Murder Mysteries. Each play has unique stories, characters, and settings, with a mix of comedy and drama. The Murder Mystery plays are period pieces, some set over a hundred years ago, and the Radios Shows take the audience back to the Golden Age of Radio (30's – 40's).
Affordable rates: Applications for the amateur (community theatre) rights to John Cook's plays are administered through The Playwrights Guild of Canada (PGC). The PGC will charge the standard amateur rates unless the production seems to be at a professional level. PGC will then discuss a higher semi-professional rate with the playwright or pass the rights request onto the playwright.
Rates for Independent companies will be at the industry standard.
Simple set: Most of the plays are written with a simple set in mind (which the director may elaborate upon if desired).
Minimal cast requirements: The cast size is generally small, except in the case of the Murder Mystery plays which rely on a large number of characters to make the plot more interesting. The Radio Shows are flexible in cast, depending on how many voices the director wants each actor to portray.
John's philosophy is to entertain the audience, without the use of excessive profanity or adult content, while at the same time presenting plays that invoke thought and discussion as you leave the theatre.